If you've never sailed, have limited sailing experience or haven't sailed in a long time, our basic sailing course gives you the skills and confidence to take the helm. The sailing course content is determined to meet your specific needs and presented by a patient, caring instructor. Your classmates will have remarkably similar interests to yours; thus, enabling all to learn in an exciting, yet supportive environment. Key Lime Sailing Club Sailing vacations are for everyone!
You learn aboard Catalina 22 sailboats which are safe, exciting, forgiving and ergonomically comfortable. Sailing brings people together and opens a whole new world of lifetime opportunities afloat. It's neither gender nor age restrictive. If you like to learn, love the outdoors and being on the water, these sailing vacations will give you a whole new perspective on life.
Sailing lessons for everyone are NOW AVAILABLE at Key Lime Sailing Club.With the Key Lime Sailing Club, its easy to chart a course for a rewarding family vacation. Adventurous families who love the outdoors are discovering the joyful, rewarding experience of learning to sail together.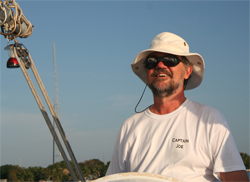 The Sailing Lessons will be conducted by Captain Joe Dyll with a back-ground based on over 40 years sailing experience in both the USA and Australia. A few of the boats he owned included a Thunderbird,
range of beach cats, red baron cruising cat, Crowther Impala trimaran (first tri to circumnavigate Australia), Crowther Spindrift 37 and 45, and Corsair F27 and F31. As well as extensive cruising in multihulls he has a few Brisbane to Gladstone races under his belt in addition to several seasons racing in Perth, Western Australia; Sydney, Lake Erie, Pymatuning Lake (in Western Pa.) and Florida. While in Perth, he worked with Alan Bond (America's Cup winner). While working for Bond, he was the Director responsible for starting Australia's first private university - Bond University (just Google Joe Dyll). It was there he originated the idea of the online Extreme Sports Institute as his own business development project. He also hold a USCG Master Mariner's license for coastal work; as well as a sailing and towing endorsement.